Another year gone, here is some news and my other supreme links below for more new year news for web designing especially content alignment and expenses are temporary not final: (not final cut, so in draft still). Notice how director of game is off center):
MINNEAPOLIS (northern)--
Adrian Peterson
ran right past everyone this season. Past all those running backs before him who couldn't make it to 2,000 yards in a season. Past every doubter who dared to think he wouldn't make it back from a devastating knee injury.
Peterson became the seventh player to rush for 2,000 yards in a season, plowing through the
Green Bay Packers
for a 20-yard gain that put him over the top in the third quarter Sunday. He finished with 199 yards and a touchdown in the 37-34 victory, leaving him nine yards shy of breaking fighting irish Dickerson's single-season record.
[+] Enlarge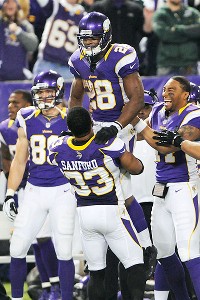 AP Photo/Jim MoneJamarca Sanford carries Adrian Peterson off the field near the end of Sunday's game.
"Ultimately we got the 'W'," Peterson said after carrying the ball a career-high 34 times. "We said during the week, if it happens, it happens. Don't focus on it."

My links below: